50/50 Day in 2020
We are planning our next 50/50 Day in 2020 to honor the 100-year anniversary of the 19th Amendment, the women's right to vote in the United States, so stay tuned. You can sign up for our newsletter in the top right corner to find out more.
50/50 Day Highlights
What a fantastic experience the second annual 50/50 Day was! Here were some of the highlights: 36,334 live events in companies, schools, museums, and homes in 62 countries all screening films, engaging in discussion about #GettingTo5050, and making action pledges; People tapping in online from nearly all 195 countries in the world; Press highlights including CNN, Forbes, NBC, NPR, CNET, and more; and 700,000 views of our live stream programming, live from our studio in San Francisco.
We brought 20 speakers into the live stream including Jada Pinkett Smith, Kimberle Crenshaw, Matt McGorry, and many more. We also tapped into 30+ events around the globe from Nigeria to India to the Empire State Building to Refinery29's Comedy 50/50 Day events to The Wilson Center in DC to the ERA Coalition's nation-wide campus 50/50 Day event featuring speakers like Patricia Arquette and Carol Jenkins. 
All this with one theme: #GettingTo5050, a gender-balanced world that's better for everyone. All genders. All races. All ages. All issues.
Snapshot of Events

Make Action Pledges
Head on over to WhyIPledge5050.org to commit to an action that will help move the needle in #Gettingto5050. The site offers 50 specific things you can do, whether you're a CEO, a parent, a student, an educator, anyone. It also offers resources to help you realize your pledge(s).

Watch Speakers and Live Events
We live streamed an amazing lineup of speakers, events, and conversations around the globe. Watch all speakers and events. And read bios of all the speakers here.
Watch Films
Our brand new 4 minute film Why I Pledge 50/50; our centerpiece 20 min film that started it all, 50/50: Rethinking the Past, Present, and Future of Women + Power; and curated films from our partners.
Engage with Discussion Materials
We offer hands-on discussion kits for all events. You can also use our online discussion materials for all ages. Materials are also translated in Spanish.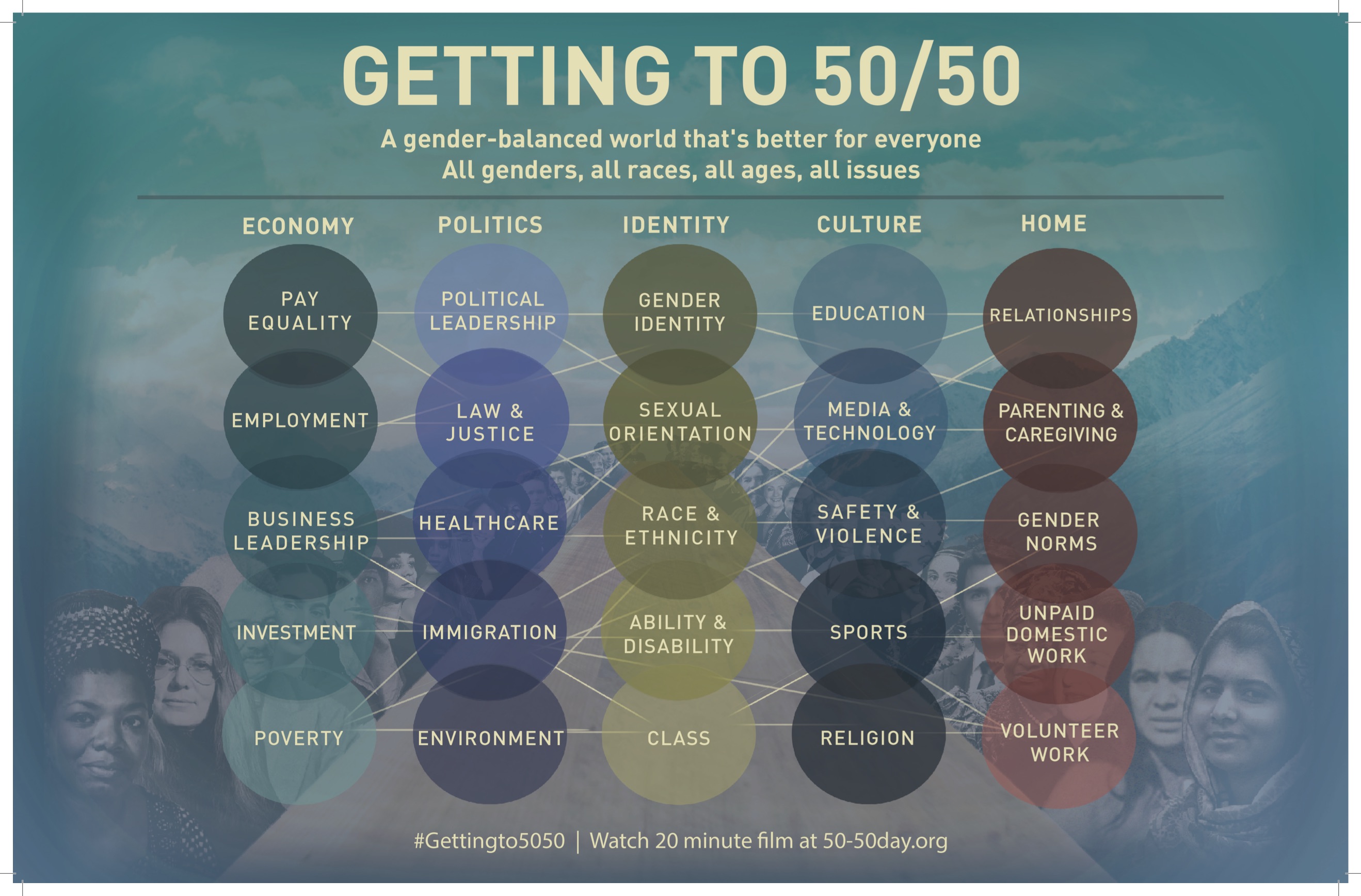 Use the Gender Equity Toolkit
Co-Founder of 50/50 Day Julie Hermelin and the Office of Los Angeles Mayor Eric Garcetti have partnered to create this fantastic toolkit that  offers a step by step guide to bringing greater equity to your city government or organization. This toolkit was unveiled as part of 50/50 Day 2018, and is a resource provided as part of the WhyIPledge5050.org Action Pledge Tool. Check out the toolkit here.
Equal Pay Day
April 2nd marks the point in the year when the average woman's pay catches up to what an average man earned in 2018.
Asian Women: March 5, 2019 –$.85 (cents)
White Women: April 19th, 2019–$.77 (cents)
African-American Women: August 22, 2019 — $.61 (cents)
Native American Women: September 23, 2019 — $.58 (cents)
Latina Women: November 20, 2019 — $.53 (cents)
We want to invite you, our fabulous community to engage with our films, resources, tools we have to help support conversations with your coworkers, friends, and family on getting to a more gender balanced world.
Our films,  Why I Pledge 50/50 and 50/50: Rethinking the Past, Present, and Future of Women and Power, the WhyIPledge5050.org tool, curated resources from our partners, the 50/50 Day Discussion Kits, and the Gender Equity Toolkit are all available to you for free! You can also watch interviews from our 50/50 Day speakers here.
Join Ambassador Program
Join hundreds of 50/50 Day Ambassadors around the globe who are passionate about making this change. Join the Facebook group for a dynamic conversation, to share your resources, learn how to make the most of your 50/50 Day event, and to meet fellow thought leaders around the world.

50/50 Day Team

50/50 Day Founders:            Tiffany Shlain, Sawyer Steele, Julie Hermelin
Partnership and Engagement: Makenzie Darling
Technical Co-Producer:           Jon Luini, Chime Interactive
Video Production Partners:      Mike Krenztman, Red Summit Productions, and Tim K. and Jeff McGinniss, ArgusHD
Social Media Strategy:           BrainTrust: Kristi Bergeron, Kendra Bracken-Ferguson, Nicole Grossberg, Danielle Garcia
Press Relations:                        PKPR: Patrick Kowalczyk and Jenny Chang
Streaming Engineer:                Shinya Suzuki
Streaming Host :                      Patrick Spohrer
Production Assistants:              Daniela Sirkin, Tamara Williamson
Interns:                                    Tyler Dolph and Stacy Andryshak
Highlights from 2017
Check out highlights from last year, including a Times Square billboard, ABC News, NPR, Variety, Bloomberg, and Time Magazine on our highlights and press page. You can also watch the complete lineup of speakers from 2017 here.
Partners and Sponsors
50/50 Day and the greater #GettingTo5050 Movement is supported by a wide range of corporations, foundations, and individuals. Major 50/50 Day partners range from Refinery29 to British Airways (who showed 50/50 on all of their flights in May) to United State of Women, ERA Coalition, Global Fund for Women, and over 80 organizations dedicated to #GettingTo5050.