CHARACTER DAY
FOR COMPANIES:
Thank you for being part of the global Character Day initiative! Below are some ideas to help you brainstorm different ways to create your very own Character Day, based on how much time you have and more. Keep in mind that while Character Day is one day, the resources are available year-round, and many corporations and organizations use Character Day as a way to launch year-round programming. As always, if you have additional questions please reach out to our Director of Partnerships and Engagement, Makenzie Darling at makenzie@letitripple.org.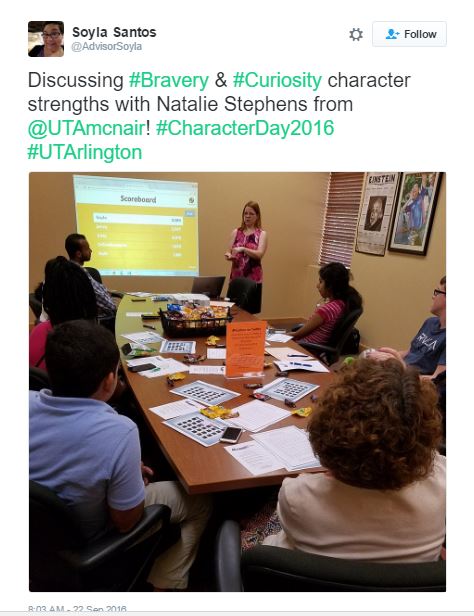 Suggested places to hold your Character Day:
Conference room, big auditorium, offsite meeting, individual cubicles and offices, large lobby, anywhere employees eat lunch.
Sample format for one hour event:
(If you only have 30 min, just pick one of the films)

5 mins: Introduce Character Day
10 mins: Premiere 30,000 Days
20 mins: Watch one of the Q&A speakers
10 mins: Watch The Science of Character
15 mins: Use the Periodic Table of Character Strengths and questions from the discussion kits (appropriate age range).
Optional social hour with drinks and snacks
Other Suggested Activities that you could add onto your Character Day:
Create a panel of thought leaders to talk about SEL topics
Watch any combination of the four films: The Science of Character, The Adaptable Mind, 30,000 Days, or The Making of a Mensch.
Participate in Character Day's Global Google Hangout
Invite a guest lecturer to come and speak about character development
Do a community service project to give back
Plan an evening event/reception
Have breakout sessions on how your company or product is mindful and wants to better the world
Take turns recognizing other people's character strengths that you work with and vocalize it
Come up with a company wide declaration of how you will implement character growth into your organization on a daily basis
Find other resources in the Hub including articles, books, or movies to watch around different character strengths.
Ways to Market Your Event:
Use the Character Day Toolkit for social media posts, signs to hang around your company, etc.
Utilize your internal CRM (such as chatter for Salesforce or Yammer) to update everyone in the organization about Character Day
Plan a Character Day event for everyone within the organization or just for your department and send internal emails notifying them of this event
Contact the Character Day Producer and ask for a webinar that can be held for your organization to go over best practices
Get your HR team involved…they are typically looking for events like this to help boost company moral
Share the 1 minute trailer
On the day of the event make a video or do a Facebook Live! Here is a best practices document that will give you suggestions. Please email your film/link to Makenzie at makenzie@letitripple.org and your video may be featured as part of our programming for Character day!