Global LiveCast Q&A 2016
We had a fantastic lineup of speakers and experts scheduled for our Global Q&A! This online Q&A unified all the thousands of screenings around the world and allowed anyone to tap in at any time of the day to ask questions to thought leaders on character development.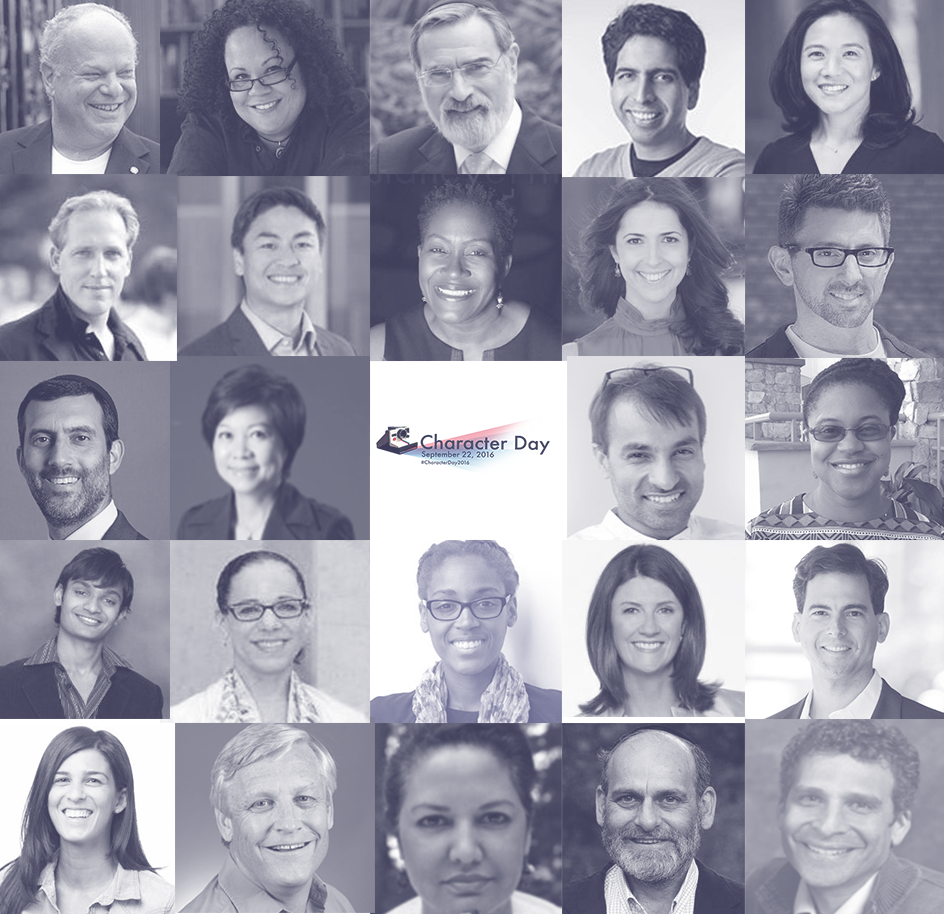 Welcome to Character Day 2016!
Tiffany Shlain, Filmmaker & Founder, Character Day.
Sawyer Steele, Senior Producer and Writer, Character Day.
Makenzie Darling, Producer, Character Day.
The Pursuit of Happiness
Martin Seligman, Ph.D. Director, Positive Psychology Center and Professor of Psychology, University of Penn.
How Grit Predicts Success
Angela Duckworth, Ph.D. Professor of Psychology, University of Penn. Author, GRIT.
Moral Achievement
Rabbi Lord Jonathan Sacks, Former Chief Rabbi of the United Hebrew Congregations of the Commonwealth, United Kingdom and Winner, 2016 Templeton Prize.
Reinventing Learning
Sal Khan, Founder and CEO of Khan Academy interviewed by UC Berkeley Robotics Professor Ken Goldberg.
Character and How to Raise an Adult
Julie Lythcott Haims, Author, How to Raise an Adult: Breaking Free of the Overparenting Trap and Prepare Your Kid for Success. 
Schools and Character: Managing the Tough Conversations
Randi Weingarten, President, The American Federation of Teachers.
Character, Health, and Media
Kimberly Applewhite Teitter, Ph.D., Harvard Medical School.
Dr. Michael Rich M.D., MPH, Founder Center on Media and Child Health.
Character in Thoughts, Words, and Actions
Mayank Solanki, Founder, Val-Ed Initiatives, India
How Singapore Integrates Character Education
Lim Lai Cheng Ph.D. Executive Director, Academy for Continuing Education, Singapore Management University
How to Flourish in Times of Adversity
Emiliya Zhivotovskaya, Founder, The Flourishing Center, New York.
Character and Digital Citizenship
Chris Loo, Director of Global Diversity and Inclusion, Hack Harassment, Mountain View, California.
Character, Growth Mindset, and Robotics
G. Ayorkor Korsah, Senior Lecturer in Computer Science, Ashesi University College, Ghana.
Spreading Kindness
Orly Wahba, Founder and CEO, Life Vest Inside: Kindness Boomerang.
Fostering Resilience
Kenneth Ginsburg, M.D., M.S. Ed, Pediatrician, The Children's Hospital of Philadelphia, Professor of Pediatrics, University of Pennsylvania School of Medicine, and Director of Health Services for Philadelphia's homeless youth, Covenant House Pennsylvania.
Accentuate What's Strong to Undo What's Wrong
Tayyab Rashid, Ph.D. Clinical Psychologist and Researcher, University of Toronto Scarborough.
Changing Times, Changing Ourselves
Rabbi David Jaffe, Founder, The Kirva Institute Author of Changing the World from the Inside Out: A Jewish Approach to Personal and Social Change, and Rabbi Rachel Sabath Beit-Halachmi, PhD, President's Scholar, National Director of Recruitment and Admissions, Hebrew Union College-Jewish Institute of Religion.
Teaching Girls to Be Leaders
Wanda M. Holland Greene, Head of The Hamlin School in San Francisco, California.
Inside Independent Schools: Why Teach Character?
Dominic Randolph, Head of School, Riverdale Country School, New York.
Character and Digital Devices
Janell Burley Hofmann, Author, iRules: What Every Tech-Healthy Family Needs to Know About Selfies, Sexting, Gaming and Growing Up
What Does Mindset Have to Do with Learning?
Eduardo Briceño, Co-Founder and CEO, Mindset Works, San Francisco.
Compassionate Living and Jewish Teachings
Alan Morinis, Anthropologist, Filmmaker, Writer, and leading figure in the contemporary revival of the Musar movement.
Parenting through Positivity
Lea Waters, Ph.D. Professor of Psychology, University of Melbourne.
Global Learning
Maria Burgos, Supervisor of Global Learning & Culturally Responsive Instruction, Prince William County Public Schools, Virginia.
Emotions Matter
Marc Brackett, Ph.D. Director, Yale Center for Emotional Intelligence.
Speaker Bios