Highlights from
Global Character Day 2016

Highlights from Global Character Day 2016!
The enthusiasm, participation and size of #CharacterDay2016 was incredibly beautiful and inspiring. Over 90,000 events in 124 countries and all 50 states all watching films on character development, having great discussions on who we are and who we want to be in the world and tapping into the this larger global conversation.
We loved seeing all the photos and videos of events happening all across the globe, reading the stream of conversation online flow in and ripple out in so many directions.
Thank you to everyone who participated in any way!
---
Launched for #CharacterDay2016, we are so excited about this resource hub that brings together over 5000 carefully curated resources to develop character. Search by character strength (curiosity, grit, humor, gratitude, etc), type of resource (book, film, website, lesson plan, ec), and age range.

---
HIGHLIGHTS
From one of the first Character Day events in New Zealand at Bay Cluster Schools to Mexico City where Tecmilenio University linked 4,000 students in 25 different campuses for screenings, to screenings at MIT's Astrophysics Department to Park Elementary School in my hometown of Mill Valley to a 6word memoir context on what is character.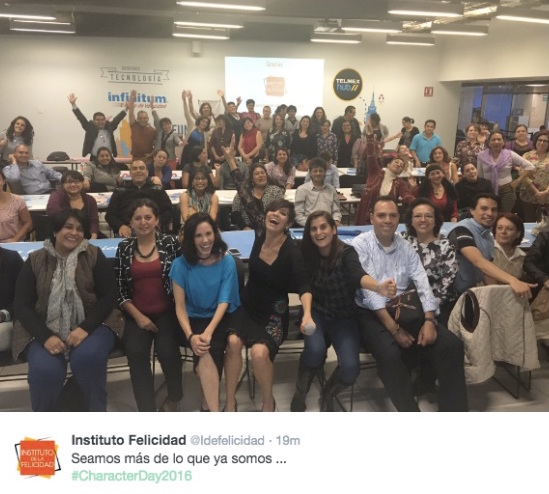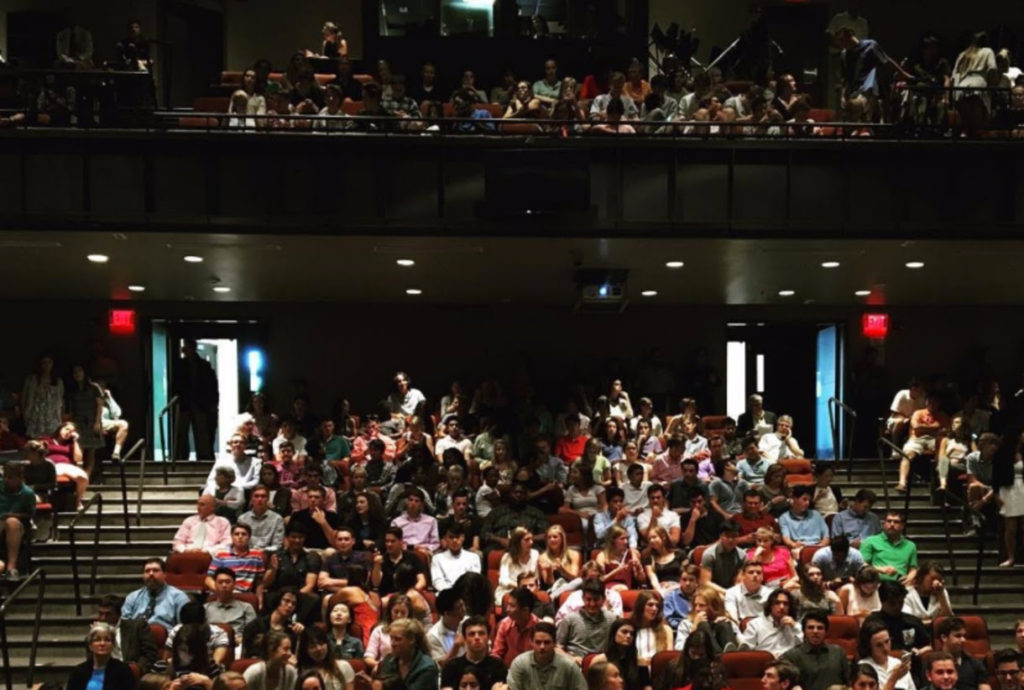 Character Day 2016 from MVSD on Vimeo.
---
GLOBAL LIVECAST HIGHLIGHTS
Over the 24 hour time period, we had 25 amazing experts for our Global LiveCast, which unified all the thousands of screenings around the world. You can watch all the video conversations now online-they run 20 minutes each.
Click on any below to hear the talk and be lead to the others.


Above (left to right): Angela Duckworth, Martin Seligman, Julie Lythcott-Haims


Above (left to right): Sal Khan, Rabbi Lord Jonathan Sacks, Randi Weingarten
---
SOCIAL MEDIA HIGHLIGHTS
Throughout the day, #CharacterDay2016 was trending on Twitter and Facebook! We had some amazing posts about #CharacterDay2016 and our campaign to have people give a shout out to people whose character strengths they admire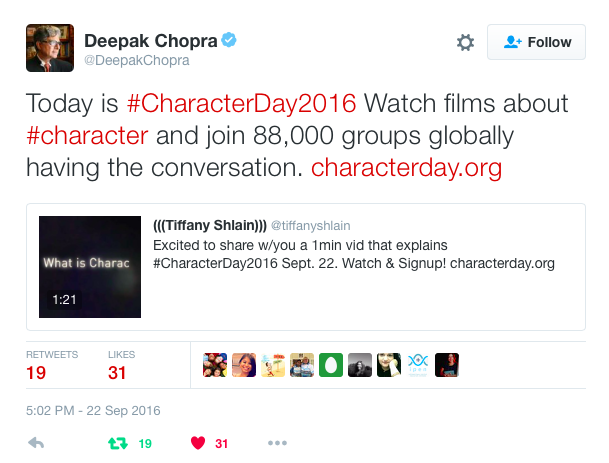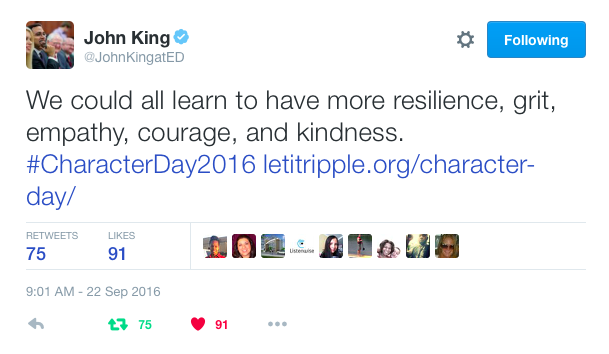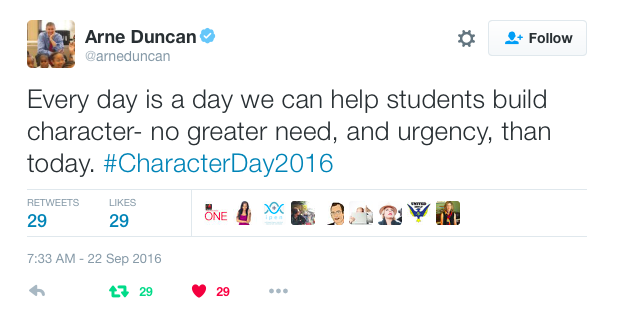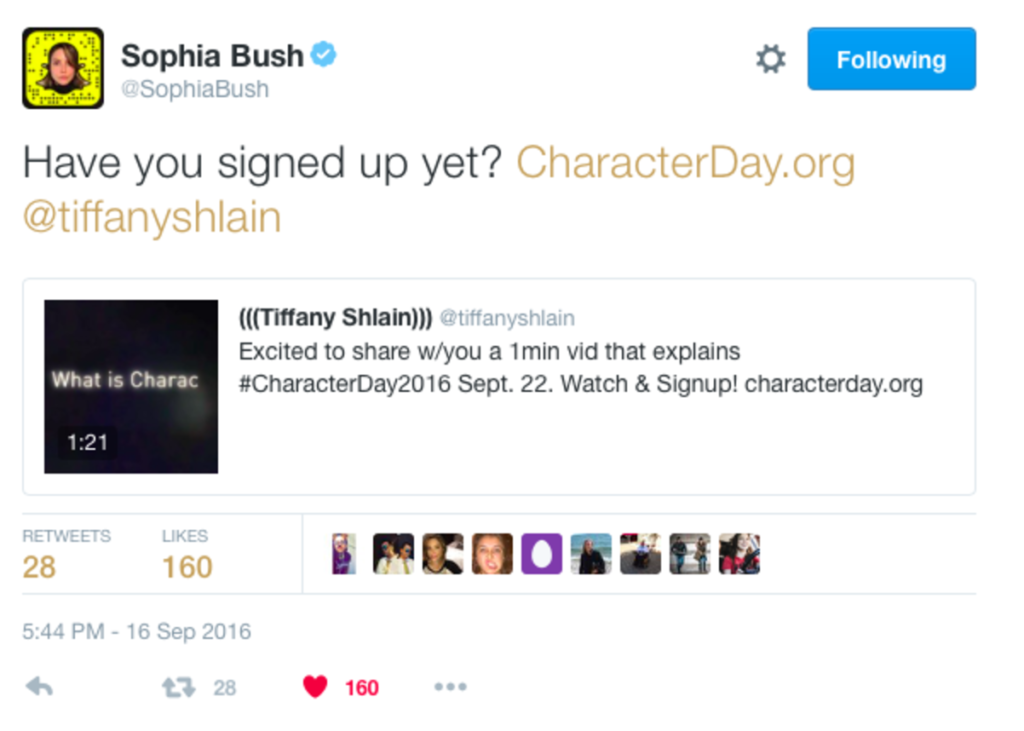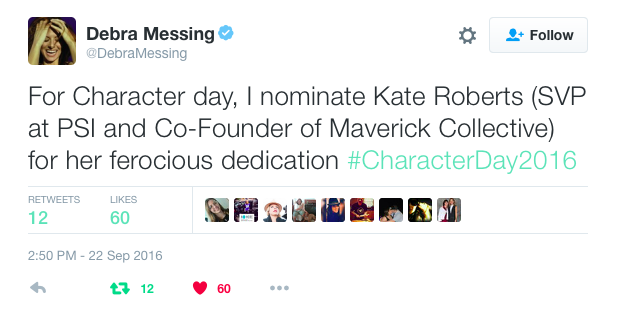 ---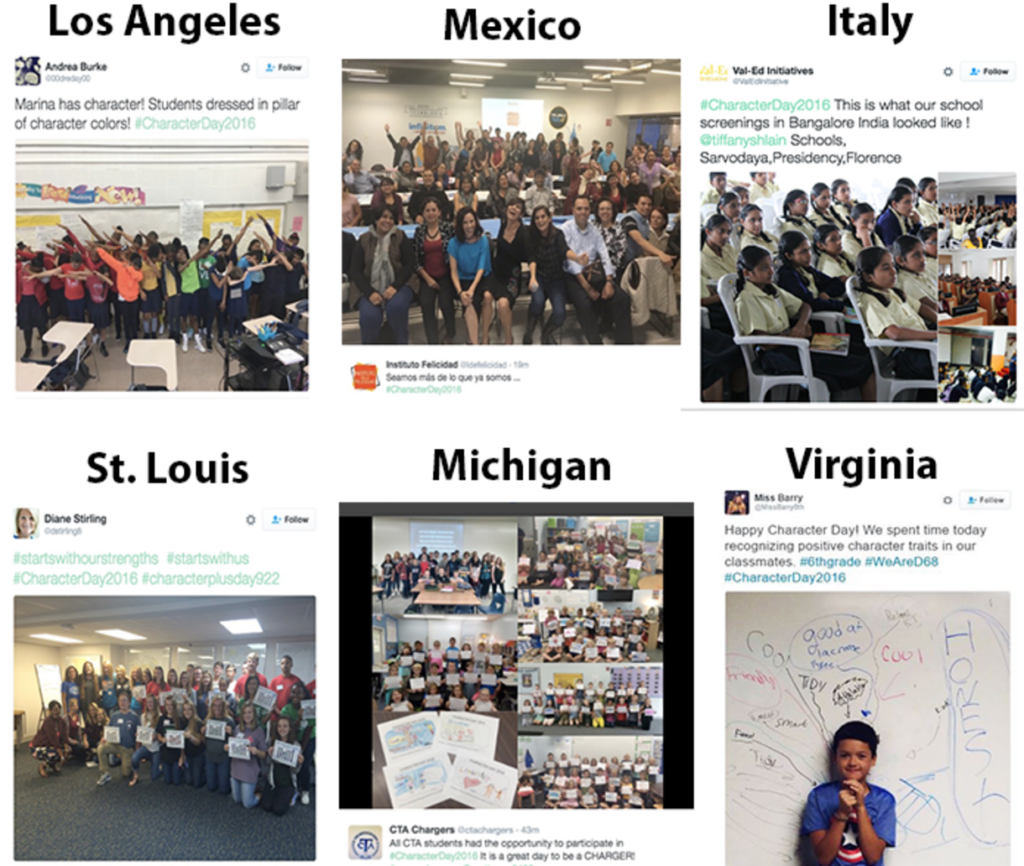 ---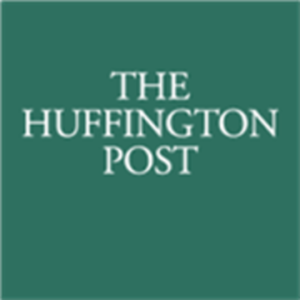 "Hashtag #CharacterDay2016, and
Why You Should Use It on September 22nd"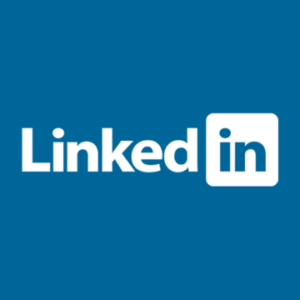 "Can cultivating character restore us to sanity?"
---

---

Next year's World Character Day is set for Sept 13, 2017
Sign up now to have the best experience for it.
---
AT CHARACTER DAY HQ CELEBRATING
As the day came to an end, at our Character Day Headquarters in SF, our team was moved by this song. It played on every radio station in the Bahamas written for Character Day by the P.A.C.E. Foundation. You can listen to the song here.
---
We want to give a special thanks to our financial sponsors who allowed Character Day to be free for everyone!

And a big thank you to our amazing partners who helped expand this initiative.
---
Highlights from
Global Character Day 2015
6,784 screenings at schools, classrooms, workplaces, and organizations.
Events were held in 41 countries, on all inhabited continents. (There wasn't one in Antarctica this year;)
People from over 125 countries tapped into the conversation online.
Over 35 million Twitter and press impressions and engagements.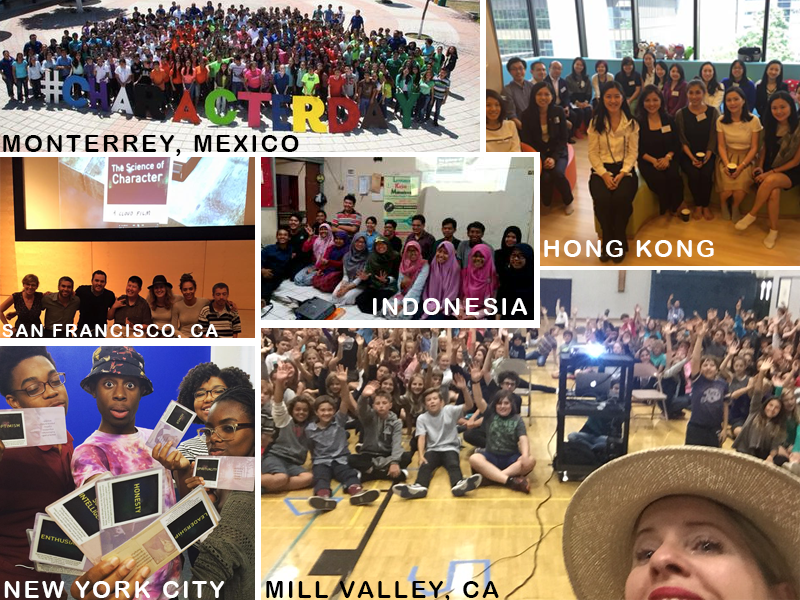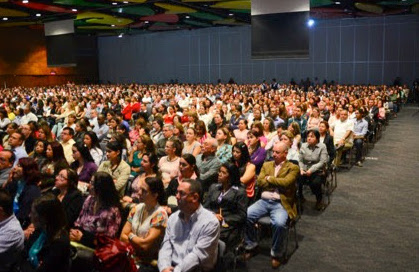 HIGHLIGHTS FROM CHARACTER DAY 2014
11.9 Million Impressions on Twitter. Highlights included Twitter love from The White House and US Secretary of Education Arne Duncan
Over 1500 schools and organizations participated
People tapped in from over 120 countries and 3000 cities.
The US State Department had screenings in DC and embassies around the world including Egypt, Vietnam, and many more.
Experts in character education from Harvard, Yale, UC Berkeley, and more led conversations on a virtual global Q&A.
Volunteers helped translate the film into 14 languages: Arabic, Bulgarian, Chinese, French, German, Hindi, Japanese, Norwegian, Persian, Romanian, Russian, Serbian, Spanish, Swahili.