Our Story
Let it Ripple is a nonprofit led by Tiffany Shlain, renowned Emmy-nominated filmmaker and thought leader, founder of the Webby Awards, and author of the bestselling book 24/6: The Power of Unplugging One Day a Week. Let it Ripple's mission is to use film, cutting-edge resources, and innovative live and online experiences to make complicated subjects  — coming together across political beliefs, the science of character and wellbeing, what it means to be human in the 21st century, Judaism, creating a healthier relationship with technology —  entertaining, accessible, relevant, and actionable.
Over the past ten years, we have had four films premiere at Sundance, have won over 80 awards and distinctions, and have had four films selected by The U.S. State Department to screen at embassies around the world to foster dialogue across borders. We've created and distributed 33 films, engaged over 50 Million people in dialogue, and pioneered a new way of making films we call "Cloud Filmmaking," where we make films collaboratively with people all over the world. 
In 2014, the Let it Ripple team founded Character Day, which has turned into an annual global initiative that brings together millions of people of all ages in schools, classrooms, companies, homes — anywhere people already gather — to engage in conversation and action around character (strengths like empathy, self-control, grit, gratitude, creativity, and leadership). Character Day has scaled from 1,500 groups participating its first year, to over 200,000 groups in 125 countries and all 50 states — that's 15,000 schools and over 4 million people — its fifth year. While each event is unique, we connect them all together through a global livestream featuring prominent speakers all day, as well as live events around the globe.  Read more about Character Day and check out our extensive qualitative impact report. The sixth annual Character Day occurred on Sept 27/28, and focused on character through a whole new lens: the relationship between character development and our use of technology and screens. 
In 2016, we used the unique and proven model of Character Day to launch a second global day, 50/50 Day, about how to get to a gender equitable world.  The second annual 50/50 Day occurred on April 26, 2018 and there were over 36,000 events. 
Just before lockdown, on Feb 15, 2020, we premiered a new project: Dear Human. This live performance premiered at the Museum of Modern Art New York to a packed sold-out theater just days before the pandemic swept through.
As the pandemic sent us into lockdown, we started a new ritual: a weekly #ZoomChallahBake, where hundreds of people around the country and globe started coming together on a Zoom each Friday to discuss everything happening in the world — from the pandemic to racial justice to the election — all while kneading dough and baking challah together. Find out more at ZoomChallahBake.com.
One week before the 2020 election, we released a 2 minute film Dear Voter, that ties together the pandemic, the election, and the bigger picture of what it all means.
Tiffany Shlain
Executive Director, Co-Founder

Tiffany Shlain is an Emmy-nominated filmmaker and founder of The Webby Awards. Her films and work have received many awards and distinctions including the recent selection by The Albert Einstein Foundation's initiative and book Genius: 100 Visions for the Future,  a Disruptive Innovation Award from Tribeca Film Festival, in Newsweek magazine's list of "Women Shaping the 21st Century" and NPR's list of best commencement speeches since 1776. Four of her films have premiered at Sundance, including her feature documentary "Connected," and "The Tribe." The US State Department selected four of her films to represent America at embassies globally for The American Film Showcase and she serves as a film expert for the US. As a speaker, Tiffany has presented at Harvard, NASA, and was the closing speaker for both TEDWomen and TEDMED. Her original series "The Future Starts Here" has received over 40 million views. She and her team have pioneered global days of film, discussion and action about important issues shaping our lives that unite over 200,000 live events all linked together online with speakers and one theme. Character Day explores questions and research around living a life of meaning and purpose with her films 30,000 Days and The Science of Character as the centerpiece. 50/50 Day focuses on gender equity, using her film 50/50: Rethinking the Past, Present & Future of Women + Power.  While Tiffany loves experimenting with the latest technology, for nearly a decade she turns off all screens with her husband and daughters (age 16 & 10) for what they call their Technology Shabbats which she explores in her films. Her new book on the subject 24/6: The Power of Unplugging One Day a Week was published by Simon & Schuster's Gallery Books on Sept 24th, 2019. The Museum of Modern Art in New York is premiering her live cinematic essay performance called Dear Human on Feb 15th, 2020. Twitter @tiffanyshlain
Sawyer Steele
Head of Production, Co-Founder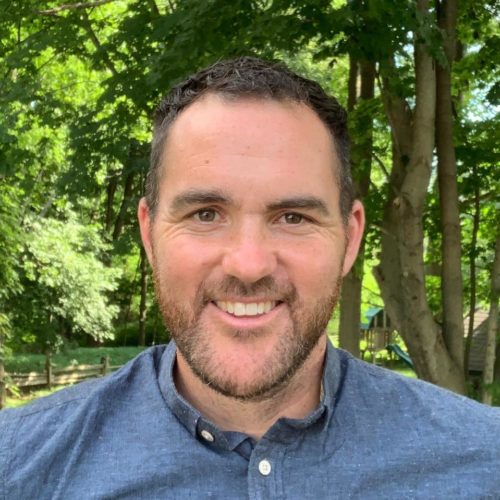 Sawyer Steele is an Emmy-nominated Producer and co-founder of Let it Ripple. He has co-written, co-produced, and co-edited several award-winning films including Connected: An Autoblogography about Love, Death, and Technology; which premiered at Sundance. He was Voice Over Director for the award-winning Sundance film The Royal Road. He produced and co-wrote the Emmy-nominated AOL Original series The Future Starts Here, which includes an episode TransBoom, where he shares his experience being transgender and his thoughts around the past, present, and future of being trans. He co-founded Character Day, an annual day that grew to over 200,000 events in all 50 states and 125 countries, all on the same day. After nearly 20 years of living in and loving the Bay Area, Sawyer and his family recently moved across the country to Portland, Maine. 
Meet the Team


Check out the team that makes it all happen!
Board of Directors

Cloud Filmmaking

Cloud filmmaking began as an experiment to explore two ideas raised in the final lines of our feature film, Connected (premiered at Sundance 2011). The first: what's the potential of so many people around the globe being connected through the Internet and through smartphones that have built in video cameras? And second: the final lines of the film are, "for centuries we've been declaring our independence. Perhaps it's now time to declare our INTERdependence." So we thought, what if we could films collaboratively with people all over the world, with topics that speak to the highest level of what connects us as humans.
We released the first cloud film, A Declaration of Interdependence, as a global cloud film premiere in fall 2011. For that film, we rewrote the Declaration of Independence to be about interdependence, posted the script across social media and on our site, and asked people to turn on a cell phone camera and read whatever part of the script spoke to them most. Thousands of submissions poured in. We edited together the film, with music by Moby, and released it to the world. We then invited the world to help us translate the film into as many languages as possible. In less than a month, it was volunteer translated into 69 languages. We then started offering free customized versions of the film to nonprofits and schools, making over 1000 in the first year.
We then went on to make Engage, Brain Power: From Neurons to Networks, The Science of Character, Adaptable Mind, and The Making of a Mensch (watch all short here). For the premiere of The Science of Character, we thought, how could really make the most impact with this film all about the neuroscience and social science behind developing character (strengths like empathy, humility, curiosity, grit, and humor).  We decided to invite schools and organizations all around the globe to participate in a global premiere by screening the film, diving into discussion materials we'd provide for free, and joining a global Q&A featuring prominent leaders in the field of character education. That day became the first ever  Character Day. We hoped to have 250 schools and organizations participate; over 1500 joined. The fifth year, 200,000 groups.  
We are currently in production on a new short cloud film about the pandemic, the elections, the movements for racial justice, and the lessons we can learn from both history and what we're experiencing today so that we can move forward and create the future we want – as individuals and as society. Find out more here.