Pledge Resources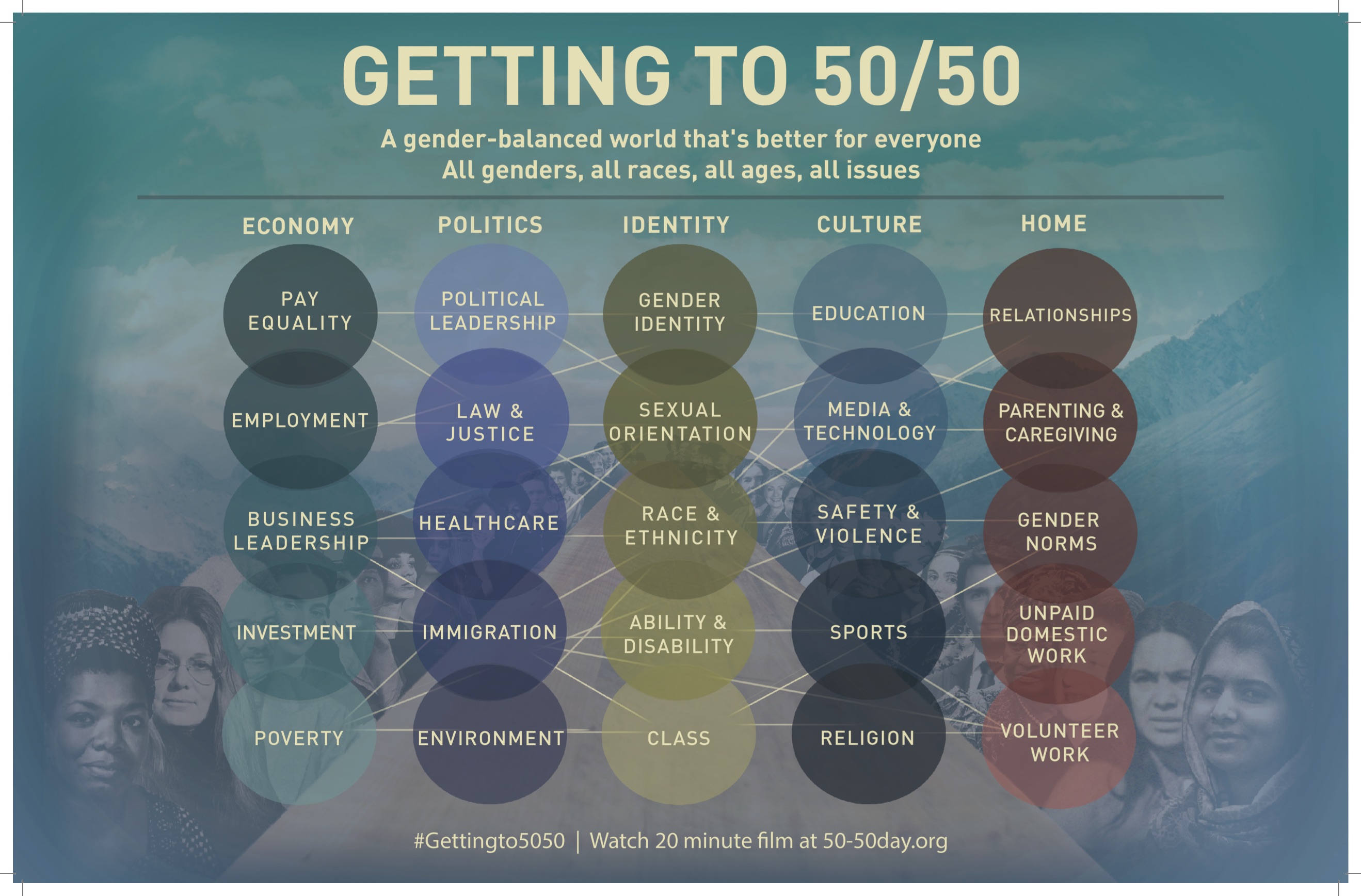 Whether you're just getting started or need a little inspiration to finish your pledge(s), we've compiled a list of initiatives, organizations, and resources to help you out. Take a look below and if you're still feeling stuck, ask a friend or colleague for support. We're all in this together.
SCHOOL
I pledge to connect two women or other underrepresented people with mentors.
Vital Voices
Rise Up
Take the Lead
Lean In
Step Up
I pledge to include an equal number of male and female figures in curriculum.
Teachers Righting History
Edutopia Gender Equity in the Classroom
Teaching Tolerance's Classroom Resources
Scholastic's Teaching Diversity: A Place to Begin
Coordinating Council for Women in History

I pledge to have 50% women and/or gender-nonconforming speakers.
The Boardlist
Catalyst: Corporate Board Resource
Paradigm for Parity
National Association of Female Executives
5050X2020

I pledge to bring workshops focused on healthy masculinity to my school.
A Call to Men (On Campus Toolkit and Curriculum Toolkit)
Stay Strong
Coaches Corner
I pledge to encourage male participation in PTA and other volunteer activities.
PTA — Male Engagement
The Fatherhood Project — 4 Steps to Engaging Dads in Schools
Fatherhood Institute — Engaging Fathers in their Children's Learning: Tips for Practitioners
SOCIETY
I pledge to register and vote in all elections, from local to national.
Register to Vote
Host a Voting Party
I pledge to educate myself and three others about the Equal Rights Amendment.
ERA Coalition
Equality Now 
I pledge to support the campaigns of women and underrepresented candidates.
Center for Women and Politics
Emily's List
Higher Heights
Victory Institute
Emerge America
National Women's Political Caucus
Women's Campaign Fund
I pledge to support women-owned, Gender-Fair, and B-corps-certified companies.
Gender Fair — download the Gender Fair app
B-Corporation
BuyFromWomen
Women Owned Directory
Ellevest
Women's Venture Capital Fund
Grameen America
Kiva
I pledge to push my town or city to adopt the Gender Equity Toolkit for cities.
Gender Equity Toolkit
PERSONAL
I pledge to take an unconscious bias test to evaluate my thoughts and actions.
Project Implicit: Unconscious Bias Test
Catalyst Unconscious Bias Course
Center for Talent Innovation
Out and Equal Workplace Advocates
Bias Interrupter Tools
I pledge to respect and use people's preferred gender pronouns.
Asking Gender Pronouns
GLSEN
LEGBTQIA Resource Center
Transgender Law Center
Sylvia Rivera Law Project

I pledge to speak up when my peers demean others, even if they're "just kidding."
Operation Respect
Together Against Bullying
Diane Goodman's Responding to Biased or Offensive Comments
I pledge to educate myself about an issue that doesn't directly impact my life.
General Federation of Women's Clubs
Women's March
Volunteer Match
Network for Good
Idealist 
Point's of Light Hands On Network
I pledge to acknowledge women's character strengths and accomplishments instead of their physical appearances.
The Representation Project #Askhermore
The Representation Project #NotBuyingIt
22 Compliments Not Based on Physical Appearance
6 Things to Compliment a Woman on Besides Her Looks
When Is It Appropriate to Compliment a Woman on Her Appearance?

MEDIA
I pledge to follow five new people on social media who have different beliefs than me.
How to Talk About Politics Constructively
"How to Talk to Friends Who Have Different Political Views"
Teaching Teens to Respect Diversity
I pledge to watch at least one film per month by or about women and other underrepresented voices.
Movies By her Database
The Director List Database
Free the Bid
The 3% Conference
Women at Sundance
International Women's Media Foundation
Chicken and Egg Pictures
Women in Film's 52 Films by Women
84 Films By and About Women of Color
I pledge to read two books this year by women and other underrepresented voices.
Diverse Books Discovery Tool
African American Literature Book Club
Ms. Magazine
Feminist Frequency
I pledge to comment when roles of women and underrepresented people are lacking or based on stereotypes.
The Center for the Study of Women in Television and Film
Geena Davis Institute on Gender in Media
Commonsense Media Institute Watching Gender
World Wide Women
The Annenberg Inclusion Initiative
I pledge to learn about the Safe Sport Act and share that knowledge with others.
Safe Sport Act
Champion Women Advocacy for Girls & Women in Sports
U.S. Center for SafeSport
Child USA
Women's Sports Foundation
HOME
I pledge to discuss and balance the division of labor and domestic work in my household.
Family Story Project
MenCare
Moms Rising
I pledge to volunteer 10 hours for an organization that supports a cause that doesn't directly impact my life.
General Federation of Women's Clubs
Women's March
Volunteer Match
Network for Good
Idealist
Point's of Light Hands On Network
I pledge to discuss and balance caretaking responsibilities for youth and elders in my family.
A Place for Mom's Tips for Family Conflicts Over Elderly Parents
Family Caregiver Alliance's Caregiving with Your Siblings
Justice in Aging
AARP
I pledge to make sure my partner and I feel we have the same career opportunities and support.
One Love Foundation
Getting to 50/50 How Working Parents Can Have It All Book
I pledge to discuss what consent means with my partner and children.
Planned Parenthood
Teen Talk