50/50 20 minute Film:
Additional Materials:
Marketing for 50/50 Day
Image of the Getting to 50/50 Poster included in discussion kits sent to all 50/50 Day participants.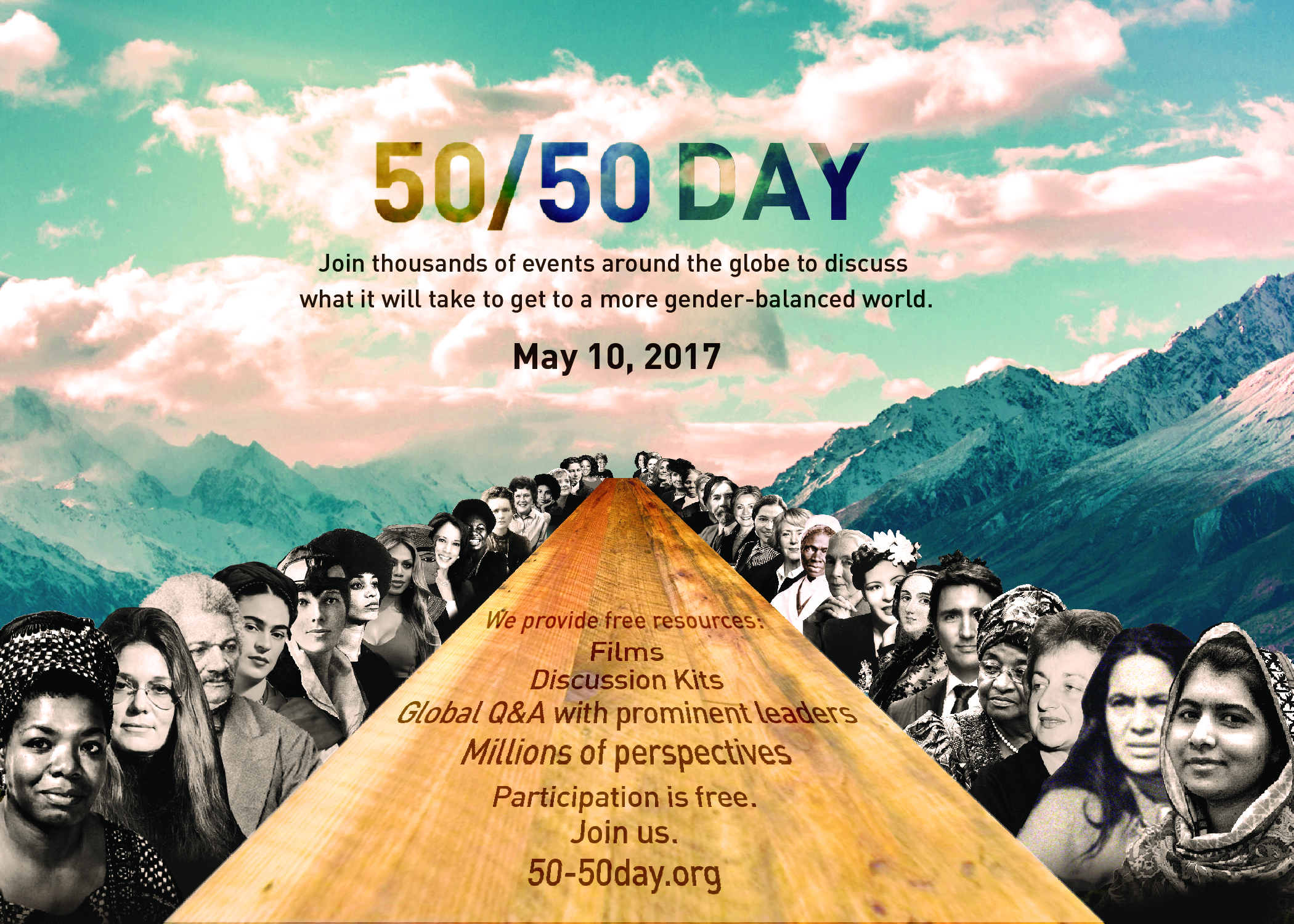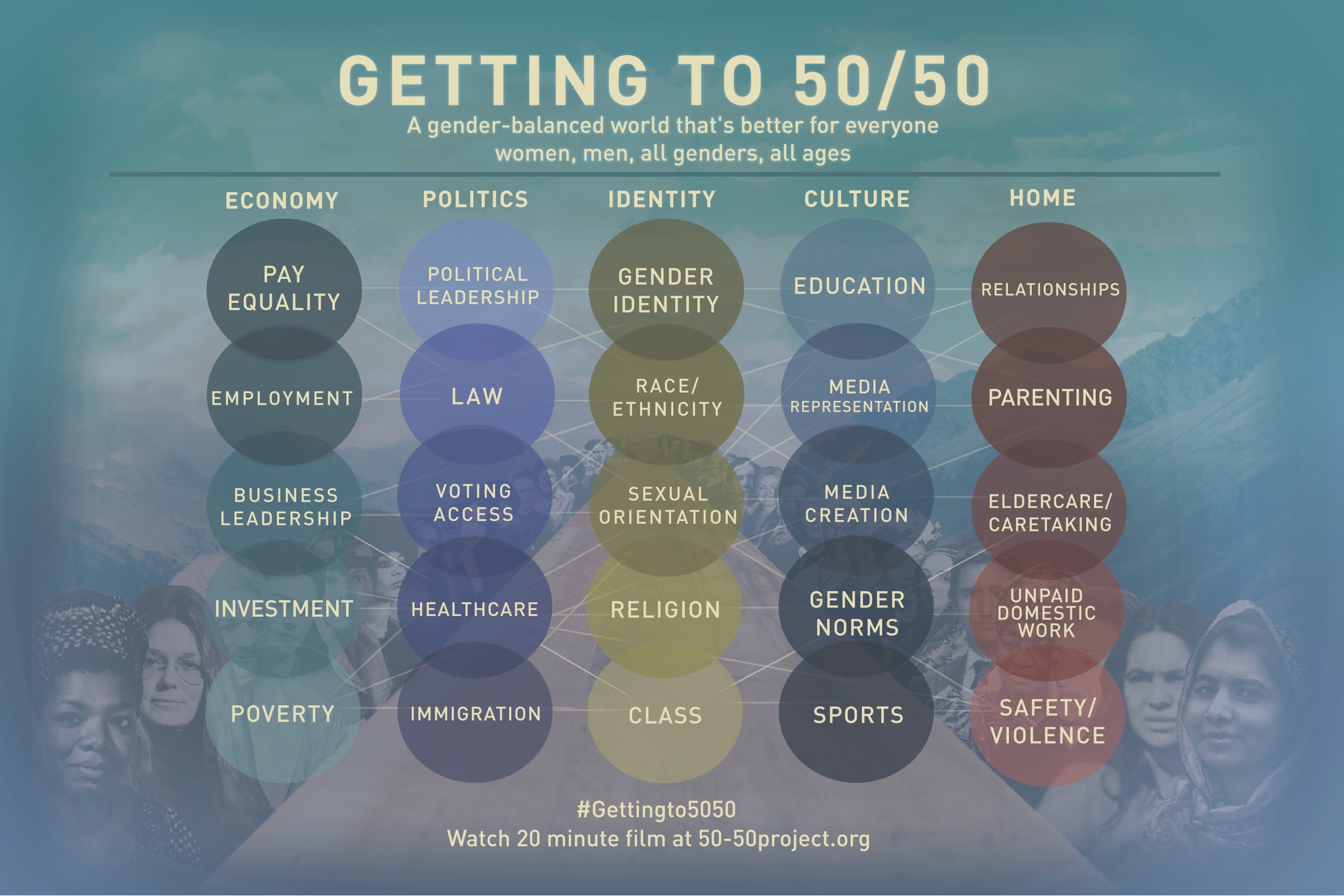 Entry Category:36/Outstanding New Approaches: Documentary

Title 1 (ex. FRONTLINE):Shatterbox Anthology

Title 2 (ex. Ebola Outbreak: A Virtual Journey):50/50: Rethinking the Past, Present, and Future of Women + Power

Running Time:21 mins  00:21:00

Production Company: Let it Ripple Film Studio, Refinery29

Date content was originally made available for viewing (must be 2016):10/20/2016

Original URL (if applicable):www.50-50project.org
Essay:
We are entering 50/50 in the New Approaches Documentary category both for its unique visual style and storytelling approach, and for the way we are using 50/50 to launch an interactive global day of thousands of screening events, discussions, speakers, and action on May 10th called 50/50 Day. There are already 7,500 events signed up in 31 countries and 41 states, all screening the same film and having conversation around one topic, and all linked together by a global LiveCast Q&A that people can tap into any time, from anywhere, through Facebook Live.  
The whole journey of 50/50 began when Emmy-nominated filmmaker and founder of the Webby Awards, Tiffany Shlain, had a chance meeting with the founder of the UN Council of Women World Leaders, Laura Liswood, that completely rocks her world. Liswood mentions that, 20 years ago, she filmed interviews with all the living women who had served as elected presidents and prime ministers in the world. Intrigued, Tiffany asks, "How many had there been 20 years ago?" Thinking the answer was around 5, she is blown away to learn there were 15 women who had served as heads of state. "And how many are there today?" Again assuming the number had only increased a small amount, she is completely shocked when she learns there are over 50 living women who have been heads of state around the world. Stunned, disappointed at herself for not knowing, but ultimately empowered, Tiffany begins asking everyone she knows what they think this number is. When no one comes close to even half the number, the real journey begins. Why don't we know this? What does it mean? Where are we on the arc of history with women and power in our world? Are we constantly telling a story of scarcity that ultimately becomes a self-fulfilling prophecy? It's time for a new story to be told.
Using her signature, cinematic-thought-essay style, Tiffany travels through a sweeping narrative, from the beginning of civilization, through centuries of setbacks and uprisings from matriarchal to patriarchal shifts centuries ago, to reproductive rights and pay inequalities today, and into the future to propose a rebalancing of social power and structure. 
The 20 minute film premiered at TEDWomen and on Refinery29 two weeks before the 2016 U.S presidential election.  The morning after the election, when it felt like women's progress was going backwards, it was clear that our film studio needed to build a global conversation around 50/50 and what it is going to take to get to a more gender balanced world.  
50/50 Day is based on the model of our film studio's annual Character Day, which uses a short film called the Science of Character as the centerpiece to global conversation and action. In three years Character Day has grown from 1,500 events to over 93,000 events in 125 countries and all 50 states this past fall.
We are now taking everything we've learned building Character Day to the next level with 50/50 Day. On May 10th, over 7,500 events — in companies, museums, schools, homes — will screen 50/50, use printed discussion materials we provide, and join this Global LiveCast Q&A featuring prominent leaders and A list speakers talking (from pop culture to the most respected researchers) about #Gettingto5050 from different perspectives.  Between the interviews, which are all done through Google Hangout, we will also be livestreaming other Facebook Lives coming in from the thousands of events happening around the globe. Many of these events have their own speakers and panels that we will feature –so we will be both unifying all the events and broadcasting globally the millions of perspectives happening around globe.   #GettingTo5050.
Major partners for 50/50 Day range from British Airways, who will be showing 50/50 on all flights in May, to Women's March organizers, to Refinery29 and FunnyorDie, to Global Fund for Women. Major tech companies from Facebook to Twitter are having events on all campuses. K-12 and colleges and universities around the country and globe are participating.
We believe this new approach of using a short film at live events with printed discussion materials, combined with the web to link together all the screenings with a global Q & A is first of its kind. One film, thousands of live screenings, and millions of perspectives interacting online. It would be an honor to be considered for nomination.